Updated ClickFunnels The Affiliate Bootcamp
So… I have had a lot of questions regarding the Affiliate Bootcamp.  What is the Bootcamp?  Is the Bootcamp is still free?  How do you get access?  How long do you get access to the interviews?  What if I want to be able to access this great information at another time?
When you register for the updated Affiliate Bootcamp you get access to interviews with 15 super affiliates and their blueprints on how they grow their businesses. Russell Brunson asked each of these individuals the question,
"If you had to feed your family with nothing but your affiliate commissions and you only had 100 days to turn this hobby into your full-time career what would you do each day (for the next 100 days) until you were full time?"
He had an amazing response from the people that he contacted.  He collected the information and videos and put them into the new Affiliate Bootcamp.  He could charge 2000k for this information but he is giving it away for free.
Russell wants to make sure that you take action on what you learn so each day.  You will get access to that day's set of interviews for only 24 hours before the information is locked again.  Then the next day you get access to the next set of interviews.  So, all of the information is released over four days.  Click Here to get access to the Bootcamp.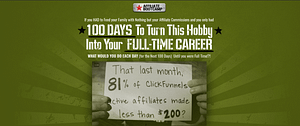 So, I signed up for the Updated ClickFunnels Affiliate Bootcamp as soon as it came available.  I had great intentions on watching the videos every day.  I got thru the first days' videos and realized that I don't have time to watch and absorb 4 hours of video every day.
How can you get lifetime access to the Updated ClickFunnels Affiliate Bootcamp??
First things first.  register for the Affiliate Bootcamp (ABC).  On the registration page, you will discover how you can get lifetime access to these interviews.  I jumped on my chance… will you??  Watch my video as I go thru behind the scenes of the Bootcamp.
In order to get lifetime access to the Bootcamp, you need to register for the One Funnel Away Challenge. The cost of this is $100. Once you register you have the opportunity to share your affiliate link for the Bootcamp and ClickFunnels will pay you $100 for every person that signs up using your link.  All it takes is one person to sign up with your link and basically, your Challenge would be FREE.  Are you ready to take your business to the next level?
If you sign up to the Bootcamp using my link I will be including the following Bonuses for FREE with a real value of $4,167!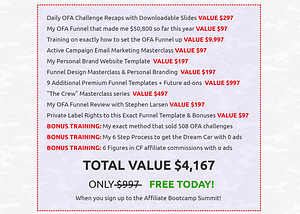 I have to say that I know people who signed up as a ClickFunnels affiliate around the same time that I did. They took the challenge and did the exercises and now they have passed me in their income as ClickFunnels Affiliates.  What was the determining factor?  What did they do that I did not do?  The answer lies in the One Funnel Away Challenge.
Before you take the Challenge you may find it helpful to read some of Russell Brunson's books.  Both of these books are free, just pay shipping and handling.  I will put the links to the reviews below.