What is the One Funnel Away (OFA) Challenge?
So what is the One Funnel Away challenge (OFA)?  The one funnel away challenge is a 30-day intensive course. Every day you get new material and every day there is homework to do.
If you choose to proceed, make sure you clear your calendar and let your family know that you will be very busy over the next 30 days. If you do the homework and take the action this will take your business to the next level.  I stated in my previous blog post that some of the ClickFunnels Affiliates who have taken this course have now surpassed me in their income as an affiliate.  It is like everything started coming together in a cohesive fashion and things started to take off.
Do you have to be an affiliate marketer in order to do this class?
The answer to this question is NO.  It does not matter what niche you are in this class will help you grow your business.
Everyday Russell Brunson (developer of ClickFunnels) will take you thru a marketing principle.  Then Julie Stoian will teach you how to build this in Clickfunnels (software used to create funnels, landing pages, and membership sites).  I explain landing pages here.  Julie will teach you the software if you are not familiar with it and take you thru step by step on how to build your funnel. Then Steven Larsen will hold you accountable. Learn what is holding you back and how you can explode your business.
Here is my video review of the One Funnel Away Challenge.
Here is what Russell says about the one funnel away challenge.
"During the OFA Challenge, I play the role of "The Strategist".
My job as your trainer is to lay out the foundational strategy each day for the task you'll complete.

Think of this as the critical "KNOWLEDGE" part of your training.

Julie Stoian (A.K.A. "The Transformer) will help you take the new strategies that I share, and transform them into a living, breathing funnel that's launched and ready for traffic.

Julie is the IMPLEMENTATION piece of the Challenge.

While I'll teach you what to do each day, Julie will train you on the actual step-by-step "how to" of executing everything into your specific funnel.

And Stephen Larsen (we call him "The Executioner" or "The Drill Sergeant") provides the ACCOUNTABILITY during the Challenge.

Imagine what you can accomplish in a day (or in 30 days) when you have someone who WON'T let you off the hook with your daily tasks, and WON'T accept excuses!

In the One Funnel Away Challenge, you'll have the full TRIFECTA every day…

You'll get the KNOWLEDGE…

The IMPLEMENTATION…

And, the ACCOUNTABILITY… "
How much does it cost to do the program?
As a clickFunnels affiliate, if you promote the OFA challenge and someone signs up under your link, ClickFunnels pays you a $100/per person that uses your link.  So with just one person signing up with your link, you can get your money back and basically do the training for free.
So my question is, how much will it cost you if you don't do this program?  Are you where you want to be financially?  Can you buy what you want?  Do you have the time to spend with your family or are you working all the time trying to make ends meet?
I feel that you get so much value with this class that it was a no brainer to do. The next class starts on June 17th.  I am signed up to take it.  Join me on this journey and let's do this together.  I have a private facebook group that I will be posting in.  Join that group here.  If you miss this class still sign up so you go on the roster for the next class.
Join me in the challenge. Watch me open my one funnel away box here. Here is what is in the box and Russell over-delivers again.
I am so impressed with this program and all that it has to offer. Sign up for the One Funnel Away Challenge and get the following bonuses for Free.  Real value $4,167.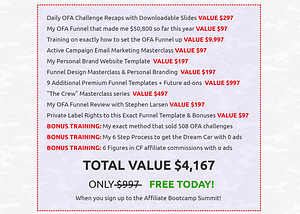 Other resources to read before the challenge starts:
Dot Com secrets
Expert secrets