Welcome to my Funnel Hacks review article.
This is for all of you webinar lovers out there, Listen Up…
I'll preface this by saying that there is a sales pitch at the end of the webinar.  BUT… I still HIGHLY recommend that you watch the 90-minute webinar training as you will get some serious value.  You will get to see behind the scenes of a number of sales funnels that have done over 5 figures in a day.  You can't put a price on that value.
Russell Brunson has perfected the Perfect Webinar Script.
It has been refined over the years with sales trial and error.  I'm not going to say go buy the Funnel Hacks training on this page (although I highly recommend it) but I DO want you to watch the free training and take some serious notes.  There are a lot of gems in this webinar that will help you immediately in your business and help you to get your business off the ground.
or
The Funnel Hacks training webinar will walk you thru step by step how to build ANY type of sales funnel you could imagine.  There are Opt-In Funnels for Affiliate Marketing, Product Launch Funnels, Membership Site Funnels and so much more.  This just scratches the surface of what Funnel Hacks has to offer.
Let's take a look at the full suite: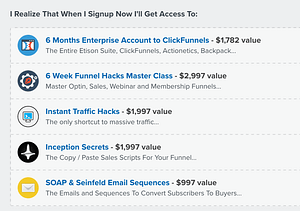 All of this totals $9770 in pure value
ClickFunnels:  Firstly, you are getting 6 months of ClickFunnels Full Enterprise Account including ClickFunnels, Actionetics and Backpack.  This is my number one software recommendation for building online sales funnels.  Click Here to read my ClickFunnels Review.
6 Week Funnel Hacks Master Class:  This will make you a Funnel Master.  You will be taken thru step by step how to build all types of funnels that you could possibly need to start and grow your business.
Bonuses:  Russell Brunson throws in the next 3 items in as bonuses.  They are worth the price of admission on their own.
Instant Traffic Hacks:  This is the most complete traffic training course that I have seen online.  It covers every possible avenue that you could use to get hot targeted traffic to your website or sales funnel.  This alone is worth $1,997 and is included as a bonus in the Funnel Hacks bundle.
Inception Secrets:  Are you terrible at writing sales copy?  Most people are.  That's about to change with Inception Secrets.  Make your way thru this course and become a sales copy master.  Use the skills to write amazing copy for your own funnels, or charge for your newly acquired skill and help other marketers with their copy.
SOAP and Seinfeld Email Sequences:  So you are building your list.  Everyone says that the money is in the list, but do you know how to leverage your list to gain the maximum benefit?  It's all in the follow-up emails.  This course teaches you the most effective follow up techniques for both immediately after someone new joins your list as well as how to continue building a long-term relationship.  Nurture your list.
With everything that is mentioned above you can see that it is a pretty amazing bundle!
As a bonus for reading my review, I am giving away free funnels.  There are 3 different funnels and you get to pick the funnel style that best fits your business.
Click here to sign up for your FREE training and choose which funnel you want to download.
The Funnel Hackers Cookbook is another FREE book.  The book is Free all you pay is the shipping.
This book is filled with golden nuggets on how to grow your business.  The cookbook breaks down all of his sales funnels into easy to ready "recipes" so anyone can easily create them.  If you need a webinar funnel, he has got the exact funnel recipe for that.  He has got recipes for every kind of funnel that you can imagine.  No more guesswork on what kind of funnel to use.  Get proven formulas that are built for instant conversions and profit.